A collection of opinions and perspectives on the Assembly of First Nations election of a new national chief. Postings are from a variety of sources including our staff or other media.
This section will be updated regularly with new developments and updated content.
Follow the latest news releases on twitter @windspeakernews
---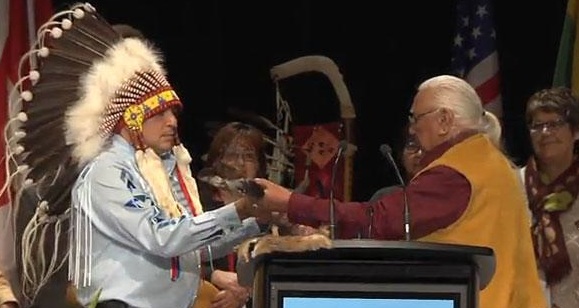 Perry Bellegrade has won a first ballot victory for office of AFN National Chief. Chief Bellegarde received 63% of fisrt ballot voting compared to 25% for Ghislain Picard and 8% for Leon Jourdain. According to AFN election rules, a candidate was required to garner a minimum of 60% of the eligible votes to be named National Chief.
Photo gallery from 2014 AFN Assembly and Election http://www.ammsa.com/publications/windspeaker/photos-2014-afn-special-assembly-and-election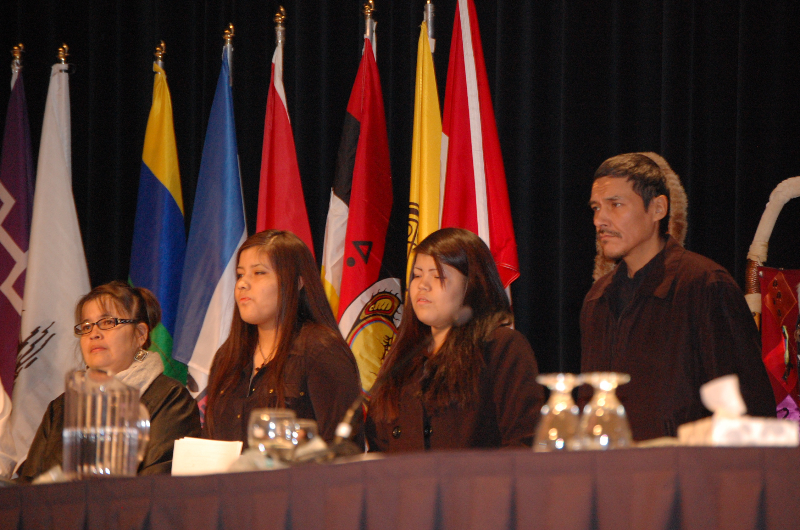 Rinelle Harper (second from left) stands with her family as she is recognized for her courage following her brutal attack in November in Winnipeg. Harper asked "everybody here to remember a few simple words: love, kindness, respect and forgiveness" when she spoke briefly at the opening ceremony of the Assembly of First Nations Special Chiefs Assembly on Dec. 9. (Photo: Shari Narine)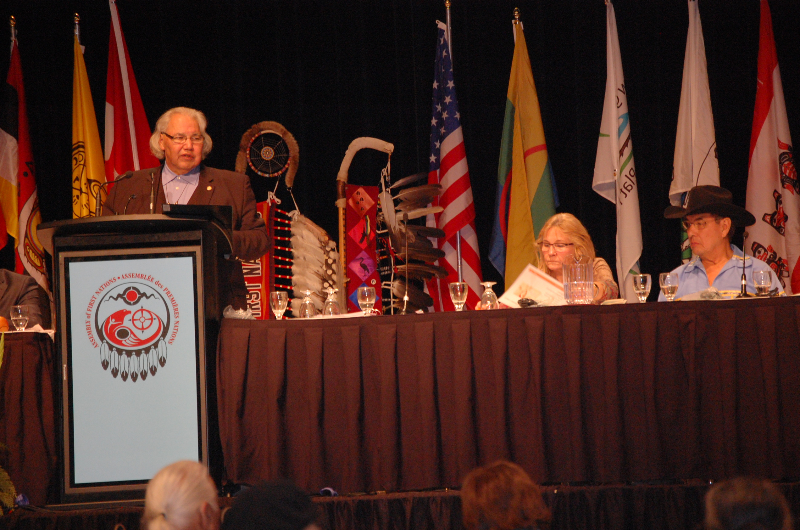 Justice Murray Sinclair, chair of the Truth and Reconciliation Commission, with commissioners Marie Wilson and Wilton Littlechild, gives an overview of what can be expected when the TRC files its final report in 2015. (Photo: Shari Narine)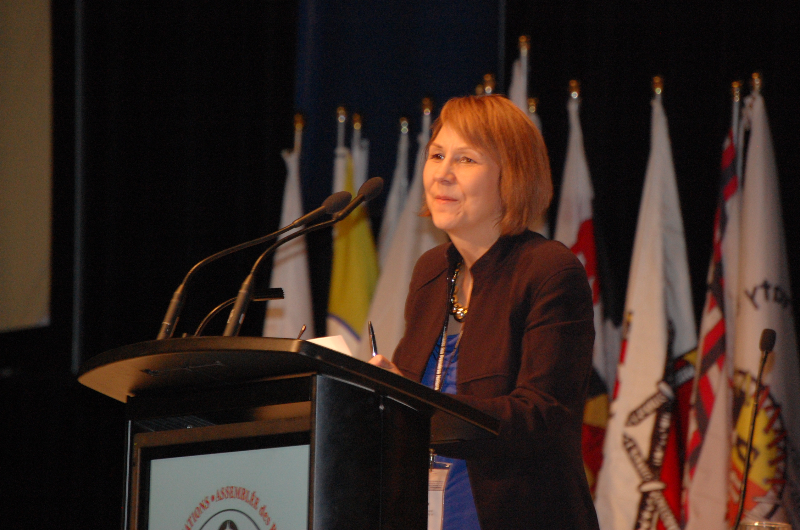 Cindy Blackstock, executive director of the First Nations Child and Family Caring Society of Canada, tells a room full of Chiefs that she expects to win the case brought to the Canadian Human Rights Tribunal against the federal government, accusing Ottawa of underfunding children's services on reserve. The decision is expected to come down by April. (Photo: Shari Narine)
Fobister, Kinew say internal conflicts exposed in AFN
By Shari Narine Windspeaker Contributor WINNIPEG
Three men running for the position of national chief for the Assembly of First Nations is a far cry from the eight – four men and four women – who jumped into the race in 2012.
"The political climate is too extreme," said Grassy Narrows First Nation Chief Simon Fobister. "There's a lot of mixed emotions across the board so it would have been challenging for anyone to enter into that climate."
Fobister's name would have been on the ballot alongside Perry Bellegarde, Leon Jourdain and Ghislain Picard if not for a mix up in communication between the chief electoral officer's assistant and Fobister, he said. Fobister says he was told he could not electronically submit his nomination form so went to Ottawa to get the signatures he needed. He was unable to meet the commitment.
Shawn Atleo resigned suddenly in May, midway through his second term, amidst controversy surrounding the First Nations Control of First Nations Education Act and charges of being too close to Prime Minister Stephen Harper and the governing Conservatives.
"In my opinion, the AFN has become more fractured and regionalized and we can't seem to find common ground to fight for common issues," said Fobister.
"It's certainly a different time to be coming into the AFN," said Wab Kinew. "I think Atleo's resignation exposed a lot of the internal conflicts and controversies within the AFN." Kinew, the University of Winnipeg's director of Indigenous inclusion, had considered entering the race but personal reasons – a new wife and spending more time with his two children – convinced him that politics at this time wasn't a good fit.
Kinew said the new leader also faces challenges outside of the organization with constant clashes with the federal government.
Fobister said he had heard rumours that Mi'qmaq lawyer Pam Palmater, who finished a distant second to Atleo in 2012, had considered running again. But there are no women contenders this time around.
"First Nations politics has a long way to go to be a level playing field for Indigenous women and the especially toxic nature of it right now may have turned some female candidates off," said Kinew.
Read more: http://www.ammsa.com/publications/windspeaker/fobister-kinew-say-internal-conflicts-exposed-afn
---
Jourdain says he can lead the rebuilding of nations
By Shari Narine Windspeaker Contributor LAC LA CROIX, Ont.

Leon Jourdain says he is the candidate who has been given the nod by the grassroots.

"My grandchildren, everybody's grandchildren, those people I look to on the ground level, are saying, 'You need to run. You're on the ground all the time. We tell you about our issues,'" said Jourdain. "All the information I have is shaped by the people on the ground."

He adds that he was nominated by chiefs and Elders.

The former two-term Treaty 3 grand chief says he comes to the position with a unique perspective, presently serving as a counsellor and therapist in Lac La Croix.

"I've heard and seen the struggles and the pain that our people have been going through since contact," he said.

Jourdain says he also knows the struggles chiefs, including himself, have experienced in dealing with the both the federal and provincial governments.

"The processes have gone astray, like when it comes to treaties, when it comes to inherent rights, when it comes to Aboriginal rights," he said. "There is a drastic change that needs to happen in Canada."

Jourdain is proposing returning to the "original foundation of building nations, which would bring about change that would bring back the dignity and the pride as well as securing our own revenues."

First Nations governance needs to be taken out of the hands of the Indian Act, he says, which restricts what chiefs can do to meet the needs of their people.

"At the time of contact, there were nations right across the country. And those nations must be rebuilt. Those nations have to be reborn," he said. "We have to concentrate on building our own method of government as Indigenous people."

Another priority for Jourdain is to develop a platform that would set out interim steps to allow First Nations to make their own laws on such issues as health and education and make the necessary moves to become self-sufficient and self-sustaining.

Going back to the original foundation also means operating on a nation-to-nation basis, with First Nations interacting with the federal government at the same level.

Jourdain said the Assembly of First Nations would "have to evolve as the nations begin to develop" and he envisions the AFN playing a role similar to an embassy.

"When the nation comes to life, the treaty comes to life," he said.

Jourdain would also create an urban strategy to guide the AFN in dealing with urban-residing First Nations people. He notes that people are forced off the reserve because of lack of housing and employment only to end up living in poor conditions in the cities.

"But they have a right to vote in the community," he said. "They should be given the right by their voting to be able to be provided the service they rightfully need … off the reserve."

Jourdain says he favours a national inquiry "to an extent" on the subject of murdered and missing Aboriginal women and girls

"There's been inquiries, there's been commissions, there's been different types of vehicles put forward every time there's a national crisis on our people....Where do those (recommendations) go? They sit on a shelf of the government," said Jourdain.

Read more: http://www.ammsa.com/publications/windspeaker/jourdain-says-he-can-lead-rebuilding-nations
---

Picard says AFN can change, remain relevant
By Shari Narine Windspeaker Contributor WENDAKE, Que.


Serving as interim national chief for the Assembly of First Nations since July, Ghislain Picard has decided to try to make the position his for the next term.

The Innu leader is one of three people vying to head the AFN in what many consider a pivotal point for the organization following Shawn Atleo's sudden resignation in May.

"I'm very much affected by how our house has been shaken over the last few months and to me, I felt the same kind of anguish as my chiefs, not feeling good about how things turned out," said Picard.

Picard, who also serves as AFN Regional Chief for Quebec and Labrador, was one of the first leaders to criticize Atleo's stand on the First Nations Control of First Nations Education Act. Ultimately, it was dissent over the legislation that brought about Atleo's downfall.

Picard says one of the strengths he brings to the position is the ability to listen.

"I am very good at listening. I think it's important. In these very critical times you need someone who is able to listen and understand and certainly have the capacity to build consensus around issues. And I certainly have demonstrated that over the last 20 years," Picard said, adding his background in communications is also an asset.

That ability to listen is what will guide him in restructuring the AFN, one of Picard's priorities.

"What I would try to promote is the idea of having citizen forums. Why not seek our people's opinion on how they see the AFN evolving over the next few years?" he said. "And to me it's very important that we provide them with a space to express their opinions, good or bad. I think it is expected there will be criticism, but it should be constructive criticism."

Public forums would be balanced by short-term action, said Picard, which would address the current structure through amendments to the charter within the first 12 months.

Among the changes that need to occur to ensure the organization "becomes more effective and more relevant" is establishing "adequate balance" between the country's smaller and larger regions and determining how to give voice to the ever-increasing number of First Nations members living off-reserve.

Read more: http://www.ammsa.com/publications/windspeaker/picard-says-afn-can-change-remain-relevant
---
AFN must provide a unified voice, says Bellegarde
By Shari Narine Windspeaker Contributor SASKATOON

Federation of Saskatchewan Indian Nations Grand Chief Perry Bellegarde is hoping to go from being the Assembly of First Nations Regional Chief for Saskatchewan to heading the organization. It will be Bellegarde's second run at the position.

Bellegarde was the first candidate to officially declare his
intentions to take over the AFN's top job. Bellegarde challenged Shawn Atleo in 2009, conceding to him in a record eight ballot vote. Bellegarde didn't run in 2012, when Atleo was successful in garnering a second term. However, Atleo stepped down in May 2014.

"I've been involved in First Nations politics all my life at every level. Basically, a servant working with and for First Nations people," said Bellegarde. "It's all about being an agent for change, a catalyst for change and getting things done. At every level I've gotten things done that improved the quality of life for our people."

Bellegarde has an impressive record in Saskatchewan where he "was part of a team" that worked toward opening the All Nations hospital in Fort Qu'Appelle; helped stabilize FSIN's funding through new slot machines for Saskatchewan Indian Gaming Authority; brought about a seventh First Nations casino; and, negotiated a compensation package for First Nation veterans.

"I believe I've demonstrated that ability, that dedication and commitment to get things done and I just want to bring it to a national level," he said.

Bellegarde has been running his campaign on the basis that a "whole transformational change" is needed.

"We really do need a whole transformational change in Canada as it deals with Aboriginal rights and title and treaty implementation," he said. "We've got to find new ways, new mechanisms to get that done."

But change is also needed within the AFN, he says, to ensure the organization remains "relevant, responsive and respectful of the diversity across Canada."

Bellegarde said the government would like to see the organization fall to infighting and now more than ever, the AFN has to provide a unified voice for all First Nations members – including those living off-reserve, which 2006 figures indicate is as high as 60 per cent. A strategy needs to be developed, he said, which takes into account adequate housing, employment, and training opportunities for those living off reserve.

Read more: http://www.ammsa.com/publications/windspeaker/afn-must-provide-unified-voice-says-bellegarde
---
Pery Bellegarde with Shawn Atleo in 2009
Bellegarde shrugs off betrayal accusation
List of contenders grows for the AFN's top spot


Shari Narine - Windspeaker - May 20

Federation of Saskatchewan Indian Nations Chief Perry Bellegarde is adamant that a news release he issued May 1 recommending that the FSIN not support federal First Nations education legislation is not the betrayal Grand Chief Doug Kelly of the Sto:lo Tribal Council says it was.

The day after FSIN's news release, Assembly of First Nations National Chief Shawn Atleo stunned everyone by stepping down from his position. It is the first time in AFN history that a national chief has resigned.

Kelly told the Canadian Press that he spoke to Atleo the night before Atleo's announcement. CP journalist Steve Rennie wrote, "The last straw came when Chief Perry Bellegarde… an erstwhile leadership rival to Atleo, announced his opposition to the federal legislation. Atleo felt betrayed."

"I don't believe it was in that regard in itself at all," said Bellegarde of the news release. "I don't believe there's a connection. In my mind, (it was issued) in good conscience."

Bellegarde said that although he serves as AFN Regional Chief for Saskatchewan, he also represents Saskatchewan Chiefs, and they were not pleased with the legislation.

On May 2, Atleo delivered a prepared statement clearly tying his resignation to the federal education bill, which was to receive second reading in the House of Commons. He said, "The current proposal on education is the latest attempt and a sincere, constructive effort on the part of Prime Minister Stephen Harper to take a step forward… I have fought for this work and to achieve this mandate. This work is too important and I am not prepared to be an obstacle to it or a lightening rod distracting from the kids and their potential. I am therefore, today resigning as National Chief."

Since Atleo's resignation, the federal government has put the legislation on hold.

"I'm surprised (Atleo) didn't stay on at least until the bill passed, but I guess there's more going on than meets the eye," said Wab Kinew, director of Indigenous Inclusion at the University of Winnipeg. "He's obviously facing a lot of pressure, including the threat of a non-confidence motion in the future and there's probably personal considerations..."

Both Kinew, who at press time had indicated he was considering a run for AFN top job, and Mark Selman of Simon Fraser University's Beedie School of Business, director, EMBA for Aboriginal Business and Leadership, believe that any leader for the AFN would have struggled.

"I think (Atleo) came into a very difficult circumstance where the Conservative government had basically torn up the Kelowna Accord and a lot of people had a lot of hopes for the Kelowna Accord, so almost anything that was done that was a matter of working with the government was going to be doomed," said Selman, "and failure to work with
the government meant little was going to happen because, like it or not, the reality is that the government controls many aspects of First Nations as long as the Indian Act is enforced and as long as the purse strings are held by the government, so it was a very difficult circumstance."

First Nations' frustrations with the government solidified in the Idle No More movement and came down hard on Atleo when he met with Prime Minister Stephen Harper in January 2013 during Attawapiskat Chief Theresa Spence's hunger strike, said Kinew.

"I think people at Idle No More really took that personally and began to oppose him, rightly or wrongly. So basically that created animosity and led eventually to some of the bad feelings that led to his eventual resignation," said Kinew.

Grand Chief Derek Nepinak, of the Assembly of Manitoba Chiefs, voiced strong opposition of Atleo's support for the proposed education legislation. In an interview with CBC News following Atleo's resignation, Nepinak conceded that Atleo was in a difficult position and made the only decision he could.

Nepinak has also been a vocal opponent of the AFN, having taken his own action last summer to create an alternative organization.

Both Kinew and Selman believe that this is the time for the AFN to revisit its role and determine what direction the organization needs to head in.

"I actually think the AFN needs to do what it's been talking about doing for a long time, which is to sit back and say, 'Okay, what are we doing here? What would an effective organization be?'" said Selman.

Read more: http://www.ammsa.com/publications/windspeaker/bellegarde-shrugs-betrayal-accusation
Follow Us
Share this with friends
Essential Reading
Key Links
Upcoming Issues
Advertising
Subscribe & Donate
Writer Guidelines