Confidential: Stephen Kakfwi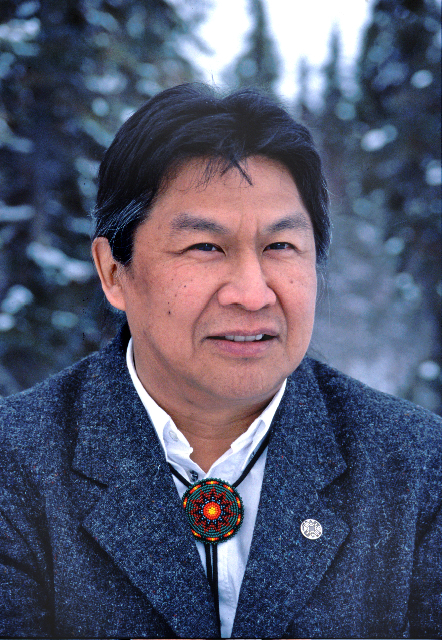 Stephen Kakfwi

February - 2009
Windspeaker: What one quality do you most value in a friend?
Stephen Kakfwi: I really appreciate a friend who has a positive attitude.
W: What is it that really makes you mad?
S.K.: Bullies who wear suits who pretend that they like themselves.
W: When are you at your happiest?
S.K.: When I'm alone with my wife, my children, and my grandchildren.
W: What one word best describes you when you are at your worst?
S.K.: Sullen and dark.
W: What one person do you most admire and why?
S.K.: My grandfather. He was unilingual, never went to school or ever spoke English, but was a successful trapper and hunter who started and owned his own fur trading business and general store.
W: What is the most difficult thing you've ever had to do?
S.K.: Learn how to forgive.
W: What is your greatest accomplishment?
S.K.: Being more at peace with myself.
W: What one goal remains out of reach?
S.K.: Though, as I said in my last answer, I have found more peace within myself, I still don't have the kind of inner peace – that pure tranquility – that many Elders become blessed with at advanced stages in their lives. I'm getting there, but I'm definitely not there yet.
W: If you couldn't do what you're doing today, what would you be doing?
S.K.: Writing a book of poems and stories.
W: What is the best piece of advice you've ever received?
S.K.: Don't wish or pray for what you don't need. Everything you need is there. You just have to learn how to see it. This came from my grandfather in a dream.
W: Did you take it?
S.K.: Yes.
W: How do you hope to be remembered?
S.K.: As a man of a few little gifts who saw opportunities and seized them in the moment.
A former premier of the Northwest Territories, Stephen Kakfwi quit more than 25 years of politics in 2003 to realize his lifelong dream of writing and performing music. Born in a traditional Dene bush camp on Yelta Lake near Fort Good Hope, Kakfwi spent his early years on the land, learning the customs of his people and developing a life-long respect for the wilderness and its resources.
He survived residential school and went on to pursue a teaching degree, but returned home to become involved in securing Aboriginal land and self-government rights. He organized Dene, Métis, and southern support groups to respond to increased oil and gas exploration in the north. Aboriginal involvement in the Mackenzie Valley natural gas pipeline inquiry resulted in Justice Tom Berger recommending a moratorium on development until land claims were settled and measures were in place to protect the fragile Mackenzie Valley and Beaufort Sea environment. The ruling became a model for the future regulation of mega-projects in Canada.
Between 1983 and 1987, Kakfwi headed up the Dene Nation, and was elected to represent the Sahtu constituency of the Great Bear Lake region, and then acted as N.W.T. premier between 2000 and 2003.
Kakfwi quit politics abruptly, saying his life had become a battleground. When he took some time to work on himself and heal old hurts, many stemming from his childhood in residential school, words to songs began pouring out of him and he put guitar music to them. To date, he's released two CD's:
In the Walls of His Mind and Last Chance Hotel.
Kakfwi continues to be active regarding a variety of initiatives, including the promotion of conservation in the N.W.T. and as an advisor to the World Wildlife Foundation. He's also working with his home community, government and other organizations to ensure benefits and revenue from the development of a newly proposed Mackenzie Valley pipeline. He's also a sought-after public speaker
Follow Us
Share this with friends
Essential Reading
Key Links
Upcoming Issues
Advertising
Subscribe & Donate
Writer Guidelines