Confidential: Trevor Duplessis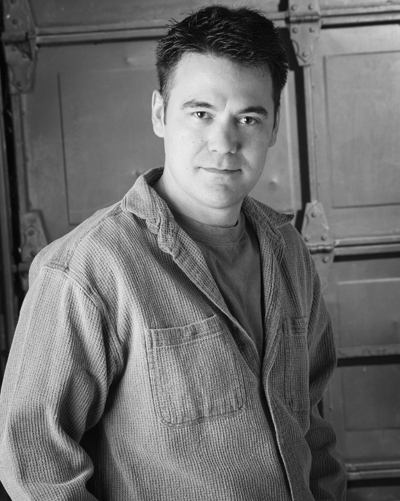 Trevor Duplessis
April - 2009
Windspeaker: What one quality do you most value in a friend?
Trevor Duplessis: Patience. My wife Amelia could tell you that you need a lot of this.
W: What is it that really makes you mad?
T.D.: People who hurt or take advantage of those who can't defend or speak up for themselves.
W: When are you at your happiest?
T.D.: Either when I come home and my kids smile at me or when I'm back stage before a show, and the stage is out there, quietly waiting for me.
W: What one word best describes you when you are at your worst?
T.D.: Scattered
W: What one person do you most admire and why?
T.D.: My mother's sense of family and undying commitment knows no bounds. I intend to let her example flow through me to my children.
W: What is the most difficult thing you've ever had to do?
T.D.: I had to leave my family for five weeks to tour In a World Created by a Drunken God. I spent three weeks in Ontario before flying to Europe for two more weeks. I remember getting on the plane, thinking 'I can't believe I'm actually getting on a plane to go further away from my family!' Amelia kept emailing me pictures of our girls to help keep me sane, and they grew and changed on me every week.
W: What is your greatest accomplishment?
T.D.: Getting the Best Actor Award for the Drunken God film in San Francisco was pretty big for me. I've spent 10 years in Edmonton doing some really good theatre, but I've been mostly overlooked by the professional companies and bigger film projects. To get acknowledgement from people in other countries and Canadian cities made me realize that the 'powers that be' in the Edmonton arts scene might not be the experts I once thought they were.
W: What one goal remains out of reach?
T.D.: I write crime fiction. To get published and put one of my books on my shelf between Raymond Chandler and Loren D. Estleman would be a dream come true.
W: If you couldn't do what you're doing today, what would you be doing?
T.D.: I have a teaching background, so I'd probably be teaching high school somewhere.
W: What is the best piece of advice you've ever received?
T.D.: It's from my dad, Roland. He tells me every couple of years: Life is short.
You only get one of them. Go after your goal with complete commitment, and the journey towards it often ends up being where the important stuff really is.
W: Did you take it?
T.D.: Every day. And, yes, I've thanked him.
W: How do you hope to be remembered?
T.D.: That I was a dream chaser, but family came first. That I worked very hard, though not always smart. That I had a couple of gifts that I couldn't quite explain, but was very, very thankful for.
Trevor Duplessis is a Métis actor and teacher who has Education and Fine Arts in Acting degrees from the University of Alberta. His favorite stage shows over the years include Glengarry Glenn Ross, Jesus Christ Superstar, Macbeth, and Running: The Alex Decoteau Story. He recently toured to Calgary, Ontario, San Francisco and Eastern Europe for the stage and Pyramid Productions/APTN film versions of Drew Hayden Taylor's In a World Created by a Drunken God. He received the Best Actor Award at the American Indian Film Festival in San Francisco for the film last year. Trevor is a program coordinator and drama instructor at Yellowhead Tribal College in Edmonton, where he lives with his wife Amelia and daughters Halina and Adelaide.
To find out more about his theatre work, you can Google his name or type Trevor Duplessis on You Tube to see excerpts of his performance in Drunken God.
Follow Us
Share this with friends
Essential Reading
Key Links
Upcoming Issues
Advertising
Subscribe & Donate
Writer Guidelines