A collection of articles, commentary and events listings showcasing the #IdleNoMore #INM #IdleKnowMore campaign and its efforts to change government legislation, policy and relationship with Canada's Indigenous people.
---

Journey of the Nishiyuu swells to hundreds after 1,600 km trek
By David P. Ball - Windspeaker - March 25
From stinging minus-55C temperatures in the far-northern Cree wilderness beyond the reach of roads, to the melting woodland snows of temperate Algonquin territory, a remarkable youth journey has made its way by foot and snowshoe this past two months, 1,600 km from James Bay in Québec to Parliament Hill.
A convoy of several hundred walkers–accompanied by van-loads of supporters–arrived on Parliament Hill on March 25. Until its final week it is a quest that, aside from Aboriginal media, has gone largely unnoticed by Canadians, but has instead gained a massive following on Facebook.
The Journey of the Nishiyuu started in mid-January as a group of seven teenagers and a guide, inspired by Chief Theresa Spence's then-hunger strike and the blossoming Idle No More movement raging across the continent. Along the route, the youth stayed in family homes and school gyms on reserves throughout Québec.
"Well, it's been pretty tough," said 20-year-old Gordon Matthews from the Cree Nation of Wemindji on James Bay. "Since the day this journey began–from Hudsons Bay and James Bay–it's pretty much been tough. It's been minus-50 and minus-55.
"When we got down to Lac Simon–the first Algonquin territory–everything changed: the climate, the weather. We're entering a new phase. We have to face the melting snow with our snowshoes. The problem we have now is the blisters–most of us have blisters on our feet, and we're still going. We're not stopping... We're trying to protect our lands–Mother Nature, Mother Earth–because our ancestors respected our Mother Earth."
Fellow trekker Nathalie Mathias joined the trek last week when the group–at least 100 walkers-strong at that point–reached the Anishinabe First Nation of Lac Simon. She told Windspeaker that the purpose of the walk is to celebrate and strengthen the unit of Indigenous peoples.
Read more: Journey of the Nishiyuu
---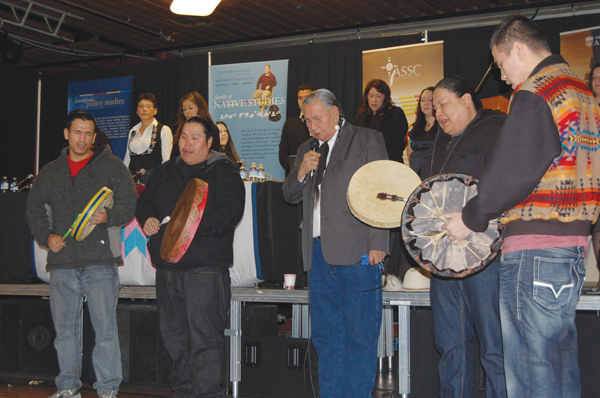 Idle No More Rally - Edmonton
---
Idle No More movement seeks to educate Canadians with teach-ins and panel discussions
Shari Narine - Windspeaker
When grassroots First Nations people were pushing Harper for answers, the Assembly of First Nations gave the Prime Minister a way out.
"I'm not putting a value judgement on that," said Wab Kinew, director of Indigenous Inclusion at the University of Winnipeg.

Kinew was referring to the thousands of mainly Indigenous people who gathered throughout the months of December and January to protest omnibus Bills C-38 and C-45, which brought in changes to legislation on how First Nations business is conducted and to legislation controlling development that impacts the environment.
While rallies took place at provincial legislatures, Parliament Hill and other sites, Prime Minister Stephen Harper met with representatives from a divided AFN membership, which presented him with an 11-point document. The outcome of the meeting was a pledge by Harper to work with First Nations at a high level.
"We have to be politically pragmatic. That means we have to understand that when you put political pressure on a group of people they are going to seek a way to resolve the situation. I was just presenting an analysis that presents the Assembly of First Nations in these last few weeks as being that sort of help for the federal government," said Kinew.
Kinew said the actions of Idle No More, which represents the grassroots, and AFN, led by National Chief Shawn Atleo, are not at cross-purposes, but rather there is a "disconnect" between the values being pushed by the AFN executive and the priorities set by the Idle No More movement.
"So what I'm suggesting is that Idle No More needs to engage and either present an alternative emissary for the federal government to deal with or work with the AFN to make sure that the priorities of the people you see coming out to the grassroots events are shared by the people at the Assembly of First Nations."
Read more: www.ammsa.com/publications/windspeaker/idle-no-more-movement-seeks-educate-canadians-teach-ins-and-panel-discussio
---
Idle No More a unique, unprecedented moment in history
Barb Nahwegahbow - Windspeaker - February 28
The Toronto Aboriginal community has not been idle. In the week leading up to the Jan. 11 meeting with the Prime Minister, many people were hard at work organizing events.

On Jan. 8, one of the two Toronto Idle No More groups held the first of scheduled weekly teach-ins at Toronto Council Fire. About 100 participants showed up and they reflected the diversity of Toronto's multicultural population, as well as the diversity of the Aboriginal community in the city.

One by one they introduced themselves, identifying their cultural roots. Men and women of all ages with family origins in the Balkans, South Africa, Ireland, Scotland, Holland, India, Egypt, Poland, United Arab Emirates sat side by side with First Nations and Metis from Couchiching, Moose Factory, Serpent River and M'Chigeeng First Nations in Ontario, and communities in Manitoba, Saskatchewan and New Brunswick.

Artist and political activist Wanda Nanibush promised the group they would learn "a different story of Canada." People shook their heads in disbelief as she gave a short history of the Indian Act, events leading to and resulting from the legislation, and some of the atrocities committed in the name of civilization. The next speaker, Hayden King from Beausoleil First Nation and assistant professor of Politics at Ryerson University, spoke about the history of Aboriginal resistance over the past 150 years, taking either diplomatic or provocative means to resisting legislation or encroachment of land.

The Northwest Rebellion, establishment of the League of Indians in 1923, the Red Power Movement and emergence of leaders like Harold Cardinal in response to the 1960s White Paper, the American Indian Movement, the Oka Crisis and various legal challenges were some instances of Aboriginal resistance that he discussed.

But Idle No More, King said, is "a moment in history that's never occurred before." It's "a remarkable movement," he said, that has inspired Indigenous people all over the world.
Read more: http://www.ammsa.com/publications/windspeaker/idle-no-more-unique-unprecedented-moment-history
---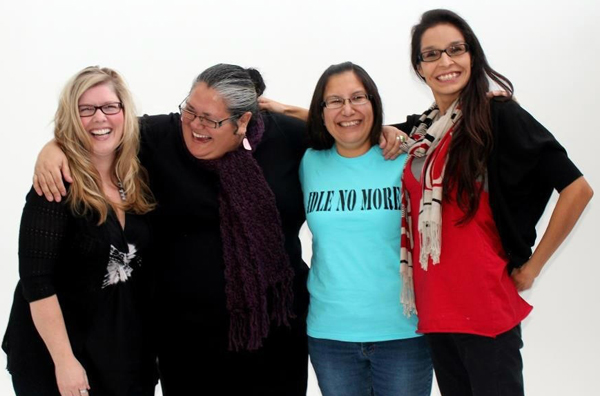 Idle No More founders: (from left) Sheelah McLean, Nina Wilson, Sylvia McAdam, and Jess Gordon.
"Creative resistance" continues battle with "dangerous" policies
David P. Ball - Windspeaker
"The way we see it," Sylvia McAdam tells Windspeaker, "we're just going to keep moving on until our goal of Indigenous sovereignty and the protection of land and water is in place."
As one of the four Saskatchewan women who founded the Idle No More movement late last year–a phenomenon which in only two months has transformed the conversation in Canada around Indigenous People –McAdam has faced a steep learning curve about social activism, political manoeuvering, and media spin.

Hailing from Big River First Nation, the Cree woman never quite expected the series of teach-ins and events she organized with Nina Wilson, Sheelah Mclean and Jessica Gordon to explode in the way it has: massive round dances, a full-scale powwow Grand Entry in the West Edmonton Mall, and demonstrations overseas and a 44-day hunger strike in the shadow of Parliament Hill.
"At first, we were seeing all this political stuff happening," she ponders, when asked what's next for the movement. "I think we're moving past that, and I believe that the voice of Idle No More–the voice of grassroots people–will become clearer and more focused, in terms of its direction and its vision.
"I think this is where people are mistaking Idle No More as an Indigenous movement; really, it's a grassroots movement for all people. It's an energetic movement, and it's bound to inspire all walks of life. It's a beautiful movement and people want to be a part of it. It's inspired grassroots people to be creative in their resistance. When we speak of water and the protection of water and land, of course it's going to motivate and inspire people to want to protect that for our children and the generations to come."
Lofty goals, McAdam will admit–ones that mainstream media commentators and political elites have frequently declared vague, unrealistic or even entirely unachievable.
Read more: www.ammsa.com/publications/windspeaker/Ccreative-resistance-continues-battle--dangerous-policies
---
Political will and all of Canada needed to drive change
Shari Narine - Windspeaker
The 13-point declaration that ended Attawapiskat Chief Theresa Spence's hunger strike on Jan. 24 is neither a way for her to save face nor an unrealistic set of goals.
"It's an absolute victory," said Danny Metatawabin, spokesperson for Spence.
Metatawabin helped draft the declaration, which he said was not prompted by pressure placed on Spence or Cross Lake First Nation Elder Raymond Robinson to end their hunger strikes. The declaration was signed by the Assembly of First Nations, federal New Democrats and Liberals, and the Native Women's Association of Canada.
Metatawabin said Spence received full support across the country, including from the Attawapiskat First Nation, and brought international attention to the situation of First Nations people.
Spence was unable to attend the press conference that announced the end to her 44-day hunger strike as she had been admitted to hospital the previous night.
Robinson, who joined Spence at Victoria Island a day after she began fasting, told about his own experience at the hospital the night before. He said he was treated with such disrespect and condescension, he left without an examination.
"Where is my place in Canadian society? Why did I have to receive that kind of tone when I needed medical attention?" asked Robinson. The treatment he received underscored one of the reasons why he, Spence and Jean Sock undertook their hunger strikes.
"These are the things still plaguing us as First Nations people."
Sock, from Elsipogtog First Nation, ended his hunger strike after 28 days, citing his mother's ailing health as his reason
Robinson, who also agreed to the declaration, said he and Spence "quit on our own terms. We were happy with the result we made as a collective... Now we're letting our leadership take over."
Regional Chief Perry Bellegarde, who represented the Assembly of First Nations, said the declaration builds on the eight elements an AFN delegation presented to Prime Minister Stephen Harper at the Jan. 11 meeting. Neither Bellegarde nor Spence attended.
Read more: www.ammsa.com/publications/windspeaker/political-will-and-all-canada-needed-drive-change
---
Only one way forward, says White—Together
Shari Narine - Windspeaker
Success is not defined by a single meeting with the Prime Minister. Success is about what led up to the Jan. 11 meeting with him and what will follow.
"At the end of the day, what's most important is that we had an eight-point consensus document … but it's only going to mean something if we continue to gather strength and keep the pressure on," said Snuneymuxw Nation Chief Doug White.
It was delegates from a divided Assembly of First Nations that met with Prime Minister Stephen Harper for four hours. Chiefs from Saskatchewan, Manitoba and Ontario boycotted the meeting, although there were chiefs from those provinces who attended on their own.
"It was not a simple straightforward meeting, for sure. There was a lot of complicated stuff around it," said White.
Only days after AFN National Chief Shawn Atleo requested a meeting with Harper, the Prime Minister agreed. Chiefs met for two days and hammered out a statement of issues to present to Harper. The eight points raised were: the establishment of a framework for the implementation of treaties; reformation of the comprehensive lands claim policy; resource revenue sharing; legislation consistent with Sect. 35 of the Canadian Constitution and the United Nations Declaration on the Rights of Indigenous Peoples; a fiscal relationship that removes caps to funding; national inquiry into violence against Indigenous women and girls; improved education services; and a new government mechanism to address the work that needs to be undertaken.

AFN Regional Chief Perry Bellegarde helped lead the strategy sessions that resulted in the eight-point presentation, but Bellegarde, as head of the Federation of Saskatchewan Indian Nations, did not attend the meeting with Harper.
"I didn't go in out of respect for my Saskatchewan caucus," said Bellegarde. The caucus boycotted the meeting to show its disappointment with Harper's decision to limit the number of presenting delegates and Governor General David Johnston's decision to not attend.
Read more: http://www.ammsa.com/publications/windspeaker/only-one-way-forward-says-white%E2%80%94together
---
Why should the labour movement support Idle No More?
Nora Lareto - rabble.ca
Idle No More has emerged to be the most important movement in Canada right now. For people who are new to Indigenous organizing or movements, it can sometimes feel like the issue is to too complex, too overwhelming and too large to understand. In partnership with the Canvass Campus Assembly Initiative, I've written this Q&A on Idle No More with an eye to a labour audience. This work should be seen as dynamic and suggested changes and additions are welcomed.
Please share this with your colleagues, engage in the work and find out how you can support Idle No More organizing in your community.
What is Idle No More?
Idle No More has emerged as a civil rights movement where Indigenous people, regardless of region or nationhood, have united to tell Stephen Harper "Enough is Enough." It was sparked by opposition to the Federal budget bill, C-45. After video footage of dozens of chiefs surfaced being denied access to the House of Commons, people took to social media and called for protests across Canada under the banner of Idle No More. Since then, hundreds of protests, blockades, traditional round-dances, drumming, and other events have taken place in towns and cities across Canada.
Who is behind "Idle No More"?
Idle No More does not have official "leadership." Instead, it was founded by four women from Saskatoon and has spread into a national movement. Canada is a large country and there exist hundreds of First Nations communities. Combined with Indigenous activists and allies within towns and cities, the movement has grown to be too large for a single leader. Spokespeople have emerged who articulate the demands that are being expressed by the grassroots.
But what about the chiefs? Aren't they the leaders?
In some communities, the leadership has been quick to join the chorus of voices demanding change. Chief Theresa Spence, for example, helped to raise awareness of the conditions of many First Nations communities through her high-profile hunger strike. But in other communities, the leadership is slower to join the campaign.
In some ways, this is just like in the labour movement where it can sometimes be hard to gain the consensus among different unions, sectors and even within a local workplace. Imagine adding the presidents of the Canadian Labour Congress and the provincial labour federations into the mix; arriving at a consensus can be extremely difficult. And, just like in the labour movement, the side with power always tries to divide people to weaken the bargaining position of a movement. With Idle No More, there exists a broad consensus that something has to be done, but there are still large debates over how to fix what. It makes arriving at a consensus difficult, though certainly not impossible.
What's contained within Bill C-45?
C-45, the federal omnibus budget bill, changes 44 federal laws. One of those laws, the Navigable Waters Act, has been changed to remove 99% of Canada's lakes and rivers from previously existing environmental protections. Indigenous communities weren't consulted on this change and expressed outrage as many bodies of water run through traditional territories. These changes will enable corporations to boost their profits by not having to abide by environmental protections.
Why should workers support Idle No More?
Many Indigenous people are union members. Supporting our brothers and sisters in the workplace is as important as supporting the struggles in which their communities are engaged.
The labour movement has proudly played supportive roles in civil rights movements and Idle No More should be no exception. Fighting racism within the workplace and in our communities must be at the core of our collective work. Because of the relationship that Indigenous people have with "the Crown" (a.k.a. the federal government), all Canadian citizens have the responsibility to ensure that this relationship is functioning. When Stephen Harper breaks his promises or breaches his responsibility towards Indigenous people, Canadians must unite and demand that he honour the Treaties, or the agreements that formed the basis on which Canada was established.
The Treaties? What are they?
When Canada was being carved into provinces, many formal agreements were made between Indigenous communities and the Crown. Those agreements allowed for Canada to exist the way it does today. The Treaties outline what lands can be used for what purpose, the processes that exist to negotiate changes to these agreements and other policies. Many of these policies influenced the Indian Act, Canada's only piece of race-based legislation.
Read more: http://rabble.ca/blogs/bloggers/nora-loreto/2013/02/why-should-labour-movement-support-idle-no-more
---
Why I support Idle No More
Linda Goyette - former journalist
Posted via facebook
I am no longer a journalist, and I do not seek a bully pulpit on any topic, but tonight I want to explain to my family and friends why I give my unqualified support to the Idle No More movement as a Canadian citizen.
I am becoming more and more concerned about the harsh backlash among non-aboriginal Canadians against this peaceful protest movement. I'm not talking exclusively about virulent racial bigotry and hate speech, although it exists in dark places, but more about the willful denial of reality, the blindness to injustice, among many decent people.
These are the people I address tonight. I respect their right to a different opinion, but I hope they will hear me out.
Four Saskatchewan women—Nina Wilson, Sylvia McAdam, Sheelah McLean and Jessica Gordon—and Chief Theresa Spence of Attawapiskat First Nation in northern Ontario found the courage to say that a change is going to come. Thousands of indigenous people across Canada are demonstrating in peaceful ways to tell the country that they will wait no longer for that change. When I see round dances in shopping malls, peaceful road blockades, or a chief on a hunger strike, I see an opportunity to learn more about the deep frustration of my neighbours. I see no threat at all.
The protesters are asking for the country I want for myself, and for my family.
Millions of Canadians do respect First Nations, Metis and Inuit legal rights because these rights are guaranteed in our modern Constitution, frequently upheld by our highest courts, entrenched in our historic treaties, and valued in our intermingled family connections, our friendships, our minds and our hearts.
Many of us badly want the Canadian government to respect Indigenous land, resources, cultural ways, and most of all their right to self-determination.
I feel hopeful—wildly hopeful—that a core demand of the Idle No More movement for stronger protection of our shared natural environment will spread to Canadians of all racial backgrounds and political allegiances. I also hope that the Harper government will think twice in future before it passes omnibus legislation with minimal parliamentary debate or national consultation on the contents.
If the Idle No More movement has allies, and it does, we need to be more outspoken. Our silence in 2013 will be interpreted as complicity, and polite agreement, with everything that is wrong with the relationship between Canada and the founding peoples. Firm support for Idle No More could push the whole nation forward in a new and more positive direction.
We need to stand beside indigenous peoples when they confront an obtuse federal government that consistently undermines their success while it scolds them about local governance. In our homes and communities, we need to challenge the mockery, the simplistic assumptions, the casual and devastating bigotry that diminish Canada and make it a smaller, narrower place than it deserves to be.
http://www.facebook.com/linda.goyette.526
Read more: http://pomegranatewomenwriting.wordpress.com/2013/01/17/why-i-support-idle-no-more-by-linda-goyette/

---
Edmonton rally photo galleries:

Jan. 13 - Flash Mob West Edmonton Mall gallery

Dec. 21 - Edmonton rally gallery
Dec. 10 - Edmonton-rally - gallery 1

Dec. 10 - Edmonton-rally - gallery 2
Dec. 10 - Happy Valley, NL - gallery


Edmonton Flash Mob videos:
West Edmonton Mall Flash Mob Round Dance Dec. 18, 2012

West Edmonton Mall Flash Mob Round Dance Dec. 26, 2012
---
fool me twice, shame on me
By shmohawk - January 8

If you want to understand Idle No More, listen hard to what people don't say. Listen to the emotions that emanate from them when they gather. Listen and hear everything from joy and pride, to anger and shame. And great disappointment too, for believing government promises time after time.
The shame I've heard seems to come from peoples' sense of helplessness, of being told change and improvement are hopeless – and believing it. They're fed up at being sucker punched by the Government time after time, and having shame pressed upon them by society. They don't like feeling that way. They don't want their kids to feel that way. Not anymore.
Listen to the drums and songs. It's about the flip-side of shame – pride. About getting off the sidelines. About the end of waiting for someone else to do something. It's a declaration that comes out loud and clear. Enough. Enough!
Young people latched onto Idle No More because someone came up with a message that they understood immediately. It didn't preach. It didn't tell them they were apathetic or that they didn't matter. Idle No More didn't imply that they were too young to understand, too disconnected from reality, that they couldn't change anything. Quite the opposite. Idle No More's message was clear – get off your butts and do something about it.
People who heard the Idle No More message were tired of a previous generation's hypocrisy. That generation rode in on the crests of grassroots movements seeking fundamental changes in Canadian society. The pass laws were stuck down. Residential schools were torn down. The Sixties Scoop had been exposed. People rose up and defeated the 1969 White Paper – at least for the time being. People marched, demonstrated, were beaten and arrested for trying to get protection for their rights in the Canadian Constitution. They thought they'd won. Not the war but one stage in a long struggle for dignity.
People of that previous generation became comfortable with their new status in polite Canadian society. They began to believe they had real power instead of scraps from the Federal table. The media reinforced this myth by anointing a National Chief of the Assembly of First Nations (AFN) the "eleventh premier". Nice fairy tale. For children.
Read more: shmohawk.wordpress.com/2013/01/08/fool-me-twice-shame-on-me/
---
Tanya Kappo: Founder of Alberta version of Idle No More has no time for cynicism
By Paula Simons, Edmonton Journal
It's so easy to dismiss an earnest, amorphous popular protest like Idle No More. All those round-dances and flash mobs, blockades and hunger strikes. What do the protesters want? What are their specific grievances? And will all this clamour actually help aboriginal families who are struggling with poverty or racism, violence or addiction?
So far, there have been few clear answers to any of those questions. And with the convenient leak Monday of a damning audit into fiscal mismanagement at the Attawapiskat reserve, run by hunger-striking chief Theresa Spence, it's even more tempting to dismiss Idle No More as a hypocritical effort by aboriginal leaders to distract suffering native Canadians from the real systemic sources of their political and economic marginalization.
But Tanya Kappo, who launched the Alberta version of Idle No More, has no time for cynicism — even if the movement she helped found has morphed far from its original purpose.
Kappo, 41, is a member of the Sturgeon Lake Cree Nation. She's also a recent graduate of the University of Manitoba law school, and an articling legal student. On Nov. 30, she also coined the Twitter hashtag #idlenomore, to promote a Dec. 2 teach-in she'd organized on the Louis Bull reserve at Hobbema. Like the four aboriginal women who organized the first Idle No More events in Saskatchewan, Kappo was provoked by the Harper government's baggy omnibus budget bill, C-45.
She was concerned the bill made major changes to Canada's laws governing navigable waterways.
She was even more disturbed that the budget bill unilaterally amended the Indian Act, to change the ways bands voted to approve the commercial leasing of reserve land. Previously, a reserve that wanted to lease out any of its communal property had to get a majority of all its members — not just a majority of those who voted, but a majority of those on the band roll — agree to the lease via referendum.
C-45 changed the rules, so that bands could lease land with the support of the majority who actually cast ballots. The government argued the change was good for First Nations, because it was less paternalistic and made it easier for bands to engage in their own economic development. Some chiefs agreed. Others stayed silent. That concerned Kappo most of all.
"The Assembly of First Nations does not represent me," she says. "I feel like there is no opportunity for a regular person like me to have an input at the AFN. I guess I'm feeling a lot of angst over why nobody said anything over C-45."
C-45 was passed Dec. 5. By then, Idle No More had taken on a life of its own — and life Kappo hasn't always recognized, as the protest movement she helped kick-start has been adopted, even hijacked, by aboriginal activists across the nation, some with conflicting agendas.
"When Theresa Spence announced her hunger strike, it was totally unconnected with what we were doing. We didn't talk to her, and she didn't talk to us," says Kappo. Reading about the audit of Spence's reserve, seeing the resulting public backlash, saddened Kappo. But she says issues at Attawapiskat, shouldn't undermine Idle No More's call to aboriginal Canadians to disavow apathy and hopelessness, and unite in action.
It's not enough, she says, for native people to blame the government or the chiefs for their problems.
"We also need to talk about the kind of things we need to do to fix our own communities," she says. "I'm not asking for anything huge. I know how complex these issues are and how deep they are. I'm just a space-maker. I'm making a space for the next generation to speak. And it can't be only a First Nations initiative. It can't be government directed. We need to make a big enough space for all Canadians, so we can do something together."
Read more: www.edmontonjournal.com/news/edmonton/Simons+Founder+Alberta+version+Idle+More+time+cynicism
---
Idle No More a nation–wide movement
Shari Narine Windspeaker Contributor

The rallying cry of "we have had enough" was heard loudly across the country as thousands of First Nations people gathered in cities from Vancouver to Happy Valley-Goose Bay to Whitehorse on Dec. 10.
"Idle No More. We're telling the Harper government they do not have our consent," said Sylvia McAdam, one of four women who organized the Idle No More movement. McAdam addressed the boisterous crowd of hundreds that filled Churchill Square in downtown Edmonton.
The country-wide rallies were in response to Bill C-45, the federal government's omnibus bill that threatens to roll over First Nations rights in order to bring in budget changes.
McAdam said she told her fellow-organizers they needed to take action because "acquiescence means, in law, if you're silent, your silence is consent." As mothers and grandmothers, she said, they could not accept Harper's actions, stripping land and rights from their children and grandchildren.
"Harper does not have my consent," said McAdam.
She said the movement did not exclude men but naturally gravitated around the women.
"This is the power of women," she said.
Read more: www.ammsa.com/publications/windspeaker/idle-no-more-nation
---
Idle No More poster by northwest coast artist Andy Everson
---
Bill receives assent, but chiefs will have last word
Jennifer Ashawasegai Windspeaker Contributor
First Nations in the country have reached the end of their patience. That was noticeably evident during what's being called the 'Scuffle on the Hill' on Dec. 4, 2012.
Chiefs were in a special assembly hosted by the Assembly of First Nations in Gatineau. They were expressing their frustration on the legislation contained in the Conservative government's Omnibus Bill or Bill C-45. First Nation leadership marched to Parliament Hill where they gave speeches,and since the bill was being debated inside the building, they decided to go in there so Canadian politicians could hear their concerns in person.
They were worried about the many impacts contained in the legislation, including changes to the Indian Act, land claims and the Navigable Waters Act.
Anishinabek Nation Grand Council Chief Patrick Madahbee looked as though he was trying to push past security to get into the House. In a telephone interview, he said, "We thought the Minister of Indian Affairs was going to come out, but he didn't come out. The Minister of Natural Resources [Joe Oliver]came out and his remarks were the same old, same old sentiments that, you know, they're doing everything for First Nations, respecting the environment, they're going to create jobs for First Nations," Madahbee told Windspeaker.
"After he made his little statement, he started to get some feedback from us. We didn't agree with his approach and he walked back into the room." This was when the 'scuffle' happened. Madahbee said, "When we tried to follow him into the area to continue the discussion, to make our views known, security stopped us."
Madahbee didn't agree with the legislation and said the government was going against the commitment from the Prime Minister made at the Crown/First Nations Gathering at the beginning of 2012. Madahbee suggests the omnibus bill has done the opposite.
"We have a hardened sentiment that the government is definitely not our friend."
Read more: www.ammsa.com/publications/windspeaker/bill-receives-assent-chiefs-will-have-last-word
---
Canada, it's time. We need to fix this in our generation
By âpihtawikosiân
Today is December 16, 2012 and Chief Theresa Spence has been on a hunger strike for six days.
Contrary to what some media outlets are reporting, she is not doing this only to protest Bill C-45 or even the deplorable treatment her community has received since declaring an emergency last year. She has vowed to continue her hunger strike until the prime minister, the Queen or a representative, agrees to sit down in good faith with First Nations leaders to rebuild what has become a fractured and abusive relationship. She is staying in a tipi on Victoria Island, which sits below Parliament and the Supreme Court of Canada.
Many native people across the country have been fasting to show their solidarity with Chief Spence, including Dene National Chief Bill Erasmus. Just search the twitter hashtag #TheresaSpence to get a sense of how much support this woman has from our peoples.
The Assembly of Manitoba Chiefs has issued a statement asking for as many people as possible to converge on Ottawa to support Chief Spence, at to demand that action be taken now to deal with long ignored indigenous concerns. The Assembly of First Nations published an open letter to the Governor General and to Stephen Harper to meet with Chief Spence saying:
"The Government of Canada has not upheld nor fulfilled its responsibilities to First Nations, as committed to by the Crown including at the Crown-First Nations Gathering January 2012. Canada has not upheld the Honour of the Crown in its dealings with First Nations, as evidenced in its inadequate and inequitable funding relationships with our Nations and its ongoing actions in bringing forward legislative and policy changes that will directly impact on the Inherent and Treaty Rights of First Nations. Treaties are international in nature and further indigenous rights are human rights, both collective and individual and must be honoured and respected."
The Idle No More movement has been busy, with actions occurring all across the country in support of Chief Spence and in support of her message that the relationship between indigenous peoples and the Crown needs serious mending, now. Not all of these actions are being reported, so if you want to know what's actually going on, it's worth your while to follow the #idlenomore hashtag on twitter. People are protesting peacefully and legally blockading roads as well as staging 'teach ins'. Many more actions are being planned.
Read more: apihtawikosisan.com/2012/12/16/canada-its-time-we-need-to-fix-this-in-our-generation/
---
The Natives are restless. Wondering Why?
By âpihtawikosiân
Picture this. You and I are sitting at my local laundromat slash fair trade café, and while you warily wait for me to get my first caffeine fix of the day, you lean in and prepare to ask the question that's been on your mind since you first read the hyperbolic headline, "Native Leaders Try to Burst Into Chambers in Ottawa, Held Back By Guards." Licking your lips nervously, you spit it out. The question. Not this fantastic espresso.
So what's got you all upset this time?
While I savor what has got to be the most widespread addiction in the world by now, I wonder how it is you and I ended up hanging out in the first place, but hey, it's an honest question. If you strive to be a bit more tactful, I'll strive not to move beyond visualising punching you in the throat, okay?
Although thousands of indigenous people all over Canada rallied together under the banner of Idle No More on December 10th, there has been very little media coverage on the movement. Most of what is being said in the mainstream media is focused on Bill C-45. I'd like to make it clear…they're getting it wrong.
Chief Theresa Spence of Attawapiskat did not launch a hunger strike over a single piece of legislation. The women who are planning on supporting her in a nationwide fast, in relay, are not doing this because of a single piece of legislation.

Canada, this is not just about Bill C-45.
Read more: apihtawikosisan.com/the-natives-are-restless-wondering-why/
---
It's political unrest. No, it's a Resurgence
By Colby Tootoosis
The movement has begun, as we see a united front of our indigenous nations with their fists raised in the presence of waving flags. We are in a critical time- a time where you recognize microphones and megaphones waiting to be utilized to motivate, inspire, and rally our people. It is legitimate to say that a sleeping giant of Indigenous presence has been prodded by the pitchfork of Canadian legislation. The blankets of comfort have been ripped off our people as many are awakening to the realities of the state of our Indigenous nationhood.

The "Idle No More" hashtag campaign has inspired December 10th, 2012 to become a spontaneous day of action nationwide. As the day unfolded, we witnessed uploaded media and pictures of hundreds, and in some places, thousands, of Indigenous people take to the streets of major cities across Canada. A day filled with freedom, and yet very minimal reporting and broadcasting from mainstream media about it. Many young people throughout the years would speak of a revolution; patiently waiting while questioning when and how it will begin. Is this the beginning of the anticipated uprising? What context will it consist of, and who's leading it?

On the surface, we can see the unity of this movement through social media. There is, however, a hidden, subtle disparity in perceptions that needs to be highlighted to dissolve confusion, and inspire constructive critical thinking. Some are aware of this disparity, while others are oblivious to the misinformation. It is clear that many of these rallies were, and need to be opportunities for First Nations to reorganize and reeducate, while creating a space for critical dialogue for the re-evaluation of our perceptions on nationhood. For instance, for some First Nations, the most degrading term you can call an Indigenous person in Canada is a Canadian (FYI for our southern relatives located in the United States, Mexico and South America). This is because some First Nations entered into Treaty convents with the Crown of Great Britain, the Queen, and not with Canada. There is the generational understanding that we are our own Nations; a Nation within a nation. On the other hand, there are some First Nations who didn't learn or grasp this understanding and are fine with their Canadian identity, along with the "Aboriginal" label that Canada imposed.
There are also different treaties that distinct First Nations have with the different levels of jurisdiction of the Crown, i.e. Federal and Provincial. These distinct relationships complicate the political maneuvering of many Nations who have been attempting to unite together via the Assembly of First Nations organization. For example, Nations within Treaty one to eleven have distinct rights that were recognized with what used to be a Treaty Card. Indians from other territories across Canada were advocating for the same rights as Treaty 1-11. Long story short, Canada essentially said, "Well, let's just give them all the same thing." As a result, Canada took the Treaty cards away from the Treaty Indians and gave Indians across Canada a Status Card. Many people are unaware of the source of these distinct rights they now hold. These include, the Medicine Chest (Treaty Right to Medical/Dental), and Power of the Pen (Treaty Right to Education). When you look at it from this angle, all the status Indians across Canada are resting on the backs of Treaty 1-11, specifically in regards to certain rights.
I can only speak on behalf of myself as a witness and observer since I had the humble opportunity to be part of the circle in the early planning of one Idle No More rally- prior to them becoming a nation wide movement. It needs to be acknowledged that in the beginning, before the hash tag, this Idle No More movement stemmed from women who gathered with the intention to defend Treaties specifically within Treaty 1-11. A grassroots movement to share a message that Provincial based First Nations organizations and the Assembly of First Nations were failing to communicate. I understood this message to be: We want our Treaty Cards back. We are not Canadian and we reject the "pan-aboriginalism/pan-Indian" mentality. We are our own Nation as described and embedded in our distinct languages. We reject the legislation that the Canadian Government is imposing to further assimilate and domesticate the international stature that exists within our covenant with Her Majesty the Queen of Great Britain. The intention is to also empower the grassroots people and youth to become informed and educated with the original understanding of these covenants.
Read more: www.lastrealindians.com/axCommentDetails
---
The Revolution will Not be televised (But it will be Tweeted)
By Aaron Paquette - December 11

On December 10, 2012 thousands of Indigenous Canadians gathered to peacefully protest an ideology that would see rivers and lakes unprotected – ripe for industrial pollution, and measures that would threaten their sovereignty on their own lands.


At issue is the breaking of spiritual and legally binding promises by the Government of Canada. At issue is the continuing colonization of the original peoples of this land.
The movement is called #IdleNoMore and the issue is Bill-C45, an ominibus bill that tosses in everything but the kitchen sink, all attached to the budget. It's designed this way in order to slip as many egregious changes to legislation as possible under the radar. If you catch one, there will be ten more that won't get as much attention.
It doesn't just affect those who have been dominated by the Indian Act. It affects all Canadians, and especially our children.
And that's why all Canadians need to learn what is happening and need to stand up with their Indigenous sisters and brothers. Cousins, we are all in this together.


Read more: www.aaronpaquette.net/
---
Idle No More Day Of Action Draws Aboriginal Protesters Across Canada
Huffington Post December 10
From the frozen north to downtown Toronto, Aboriginal protesters and supporters declared today that they would be "idle no more."
Spurred on by social media, thousands took to the streets in cities across Canada, demanding recognition for Aboriginal rights. The movement's hashtag, #IdleNoMore, trended nationally on Twitter as supporters shared photos and calls to action.
The grassroots organization's main target is Bill C-45, the omnibus budget bill which includes changes to the Indian Act, the Fisheries Act and the Navigable Waters Protection Act.
"Less than three weeks ago, four women from Saskatchewan (Indigenous and non-Indigenous) decided that they could no longer stay silent in the face of what is a legislative attack on First Nation people and the lands and waters across the country," said a release on the movement's website, IdleNoMore.com.
"Bill C 45 is not just about a budget, it is a direct attack on First Nations lands and on the bodies of water we all share from across this country," said Sylvia McAdam, one of the four founding activists.
Read more: www.huffingtonpost.ca/idle-no-more
---
More Rank Comix cartoons:
Rank Comix Cartoon Gallery 2012
Rank Comix Cartoon Gallery 2013
---
Rising Aboriginal frustration palpable
Show of anger at Commons looks likely to be repeated
Mia Rabson Winnipeg Free Press - December 10
As far as First Nations are concerned, it is fitting that Prime Minister Stephen Harper announced Canada had approved the Chinese takeover of two Canadian oil companies from the room on Parliament Hill known as the Aboriginal People's Committee Room.
It was just another sign the natural resources First Nations should be benefiting from were being sold off under their noses without their input.
Just days earlier, Chief Patrick Madahbee of the Anishinabek Nation Grand Council was among a group of chiefs who tried to force their way into the House of Commons to be heard, angry that the government appeared to be uninterested in listening to or working with First Nations.
Madahbee said last January Harper spent a day listening to First Nations leaders and worked on resetting the relationship between the Crown and indigenous people. That same night, Harper left for Davos, Switzerland, where he delivered a major speech about his plans for the coming years, with a priority focus on selling oil and gas to Asia and pursuing additional trade with Europe and India.
"Immediately, the prime minister jetted off to sell our resources off to the world. He's been constantly doing that," said Madahbee.
For First Nations leaders, the latest international trade deals are another sign of being left out of a deal that could help raise their people out of poverty.
And the anger that has been simmering under the surface for years is boiling over like the early signs of a volcano.
Last week's skirmish outside the Commons only lasted about 30 seconds and was far from out of control, but it is unlikely to be the last event of its kind.
Assembly of Manitoba Chiefs Grand Chief Derek Nepinak as good as said so a few hours after it happened.
"This may not be the last time we do this," he said.
Read more: www.winnipegfreepress.com/opinion/columnists/rising-aboriginal-frustration-palpable
---
From a grassroots hashtag to a real opportunity for change
Wab Kinew - Winnipeg Free Press December 6
When First Nations chiefs angry with the federal omnibus budget Bill C-45 scuffled briefly with RCMP on Parliament Hill on Tuesday, it certainly made for compelling images. It also raised some compelling questions. Are we seeing a renewed militancy in the Aboriginal community? Is this a "tipping point" of sorts? What can we expect next? To me, the most interesting question is what was the catalyst for this showdown?
It was actually a simple message, likely unintelligible unless you are an avid Twitter user:
"Tweeting up on Sunday, December 2, the #IdleNoMore event in Alberta. Lets get it trending! Here is the FB event..."
Not necessarily "I have a dream" type material, but significant in its own right. Tanya Kappo Tanya Kappo (@Nehiyawskwew) posted that on Nov. 30 to drum up support for an event she organized called "Idle No More." Her fellow organizers began using the "#idlenomore" hashtag (hashtags are Twitter's way of grouping messages together by topic) and so did their followers.
Kappo told me she expected her event to be "15 people in a room listening to what I thought about the legislation." Instead, 150 people descended on Louis Bull First Nation in Alberta to hear Kappo and her co-organizers speak against Bill C-45.
Kappo and many First Nations people object to provisions in the bill that reduce the amount of federally protected waterways and increase the minister of aboriginal affairs' power to sell off reserve land. It is also seen as part of a broader agenda to impose legislation on aboriginal people without their consent. Some people have even begun to blame indigenous leaders for allowing this agenda to proceed.
At the Idle No More event last Sunday, Kappo says many people were upset their chiefs were not talking about the bill. "There was angst building against our leadership. People asked 'What's (the Assembly of First Nations) doing?' and 'What are the chiefs doing?'" People at the meeting kept tweeting and the hashtag took off.
It grew beyond the Alberta event. Soon all sorts of messages about indigenous issues included the hashtag. There were more messages critical of First Nations leaders. Even non-aboriginal people started using the hashtag to express their support. The hashtag went viral.
Then on Tuesday this social media talk hit the floor of an Assembly of First Nations meeting in Ottawa. Soon National Chief Shawn Atleo and others called for a march to Parliament. Fast-forward a few hours and suddenly chiefs and Mounties were shoving each other outside the House of Commons chamber.
In the aftermath, one of those leaders, Manitoba Grand Chief Derek Nepinak, appeared on CBC television and tipped his hat to the Twitterati.
Read more: www.winnipegfreepress.com/arts-and-life/life/from-a-grassroots-hashtag-to-a-real--opportunity-for-change
---
Chief Wallace Fox leads charge on Parliament

Sage

Speaking on the first day of the Special Chiefs Assembly on Dec. 4, Onion Lake Cree Nation Chief Wallace Fox urged fellow chiefs and Assembly of First Nations leaders to take at least the first day of the three days of meetings to Parliament Hill. While that did not happen, there was an impromptu march on Parliament Hill at noon on the first day. The assembly concluded with chiefs talking about taking action that ranged from continuing talks with Ottawa and provincial governments to further court action to blockades of roads and railways. Samson Cree Elder Cecil Napoose, from Alberta, said of Fox, "He is the leader to challenge the government that the time has come. He is also a spiritual leader…his people are his power."

Read more: www.ammsa.com/saskatchewan-sage/chief-wallace-fox-leads-charge-hill

---

Next year critical to Native-Ottawa relations


Doug Cuthand, Special to The StarPheonix

This week we passed one of those watershed events that will define our political direction for the foreseeable future.

The First Nations and the Harper government are moving in opposite directions. Confrontation and unrest will be the order of the day.

This was apparent as the chiefs held their assembly in Ottawa. On Tuesday chiefs from Saskatchewan, Manitoba and Ontario held a demonstration on Parliament Hill and tried to enter the Parliament Buildings.

For most of the current fiscal year, the federal government has been announcing cutbacks to aboriginal programs, First Nations tribal councils and regional organizations. A week ago, a group of 121 academics wrote to the minister of aboriginal affairs pointing out the serious implication of cutbacks to aboriginal organizations. In their words, "the potential loss of expertise is staggering and could take a generation to recover."

So far there has been no response from the minister's office.

The cutbacks, coupled with unilateral changes to the Indian Act in the omnibus budget Bill C-45, have got the attention of our leadership and it is fighting back.

Last January, at the First Nations summit, Prime Minister Stephen Harper pledged to work together with the First Nations and not introduce changes the Indian Act. For a fleeting moment it appeared that positive change was in the air.

Soon after, however, Conservative MP Rob Clarke from Desnethe-Missinippi-Churchill River the tabled a bill to eliminate the Indian Act. The bill was meant to remove obsolete clauses from the act, but it proceeded with a minimum of consultation.

Next, Bill C-45, the omnibus budget bill, was tabled and it contained amendments to the Indian Act and the Navigable Waters Protection Act that caught our people off guard. These two amendments were buried in the omnibus budget bill and have nothing to do with the budget.

The amendments to the Indian Act refer to the clauses that allow for designation votes and land surrenders. To develop a piece of land commercially or for mineral extraction, it is necessary under the Indian Act to hold a designation vote. The new legislation removes the process from a double majority to a single majority. A double majority means that a majority of band members must vote and a majority of them must agree with the proposed changes. A simple majority is quite simply a majority of those who cast a vote. Under the old system it was cumbersome, but it required the chief and council to communicate with the band members and get the vote out.

---

John Ivison: The fate of our resources is in the hands of our most disadvantaged citizens

National Post

It was the most exciting thing to happen in the foyer of the House of Commons, since the late Reg Alcock nearly provoked fisticuffs when he called Peter MacKay "a scumbag."

A group of Native chiefs protesting new government legislation jostled with security guards outside the chamber of the House Tuesday, as they tried to push their way inside. It was over in an instant, without so much as a torn hangnail.

But it served notice that not only are First Nation leaders frustrated, they know they are riding a wave of native empowerment that has come nowhere close to cresting.

The Assembly of First Nations met Tuesday in Gatineau to catalogue the usual litany of how they've never had it so bad. Yet on the ground, natives are the resource rulers – wielding a veto over which projects will succeed or fail.

Bill Gallagher, a lawyer and author who has written a book called Resource Rulers: Fortune and Folly on Canada's Road to Resources, says natives have an almost unbroken series of 171 court case victories, when it comes to resource cases.

"It is a very one sided legal contest," he told the CBC.

Canada's economic future is pegged to the successful completion of many of these resource projects, so we are in the somewhat ironic situation where the country's fate is in the hands of its most disadvantaged citizens.

If you doubt that statement, look at the numbers. Canada loses $60-million a day in revenue — $22-billion a year — because of the discounted price it receives for its oil from U.S. customers. If that oil could make it to Asian markets, it could command closer to $110 a barrel, rather than the $75 producers currently receive.

To close that gap, the oil needs to get to the West Coast. But, for most informed observers, the Northern Gateway pipeline is dead, even if it wins approval from the National Energy Board next December. The reason is, in large part, aboriginal opposition.

Stephen Kakfwi is a former premier of Northwest Territories, and cut his teeth in politics fighting the Mackenzie Valley Pipeline in the 1970s.

"I was 24 years old – I didn't even have a bank account."

Mackenzie Valley was labeled "the biggest project in the history of free enterprise" when it was launched in the mid-1970s. It was killed by Justice Thomas Berger's report in 1977, which recommended any pipeline be delayed 10 years.

Read more: fullcomment.nationalpost.com/

---

Are you ready for a fight? [editorial]

Windspeaker
Aboriginal people are under siege, and don't know what is about to hit them. We at Windspeaker want Aboriginal people to be well warned before it's too late to do anything about it, so let's lay it out here. The Harper Conservatives are on the attack to take Aboriginal interests out at the knees and it begins with government's intention to slash funding to tribal councils and other organizations that work on the behalf of grassroots people.
It may seem a remote thing that these organizations do—some grassroots people may not see their value at all—but this is an attack, nonetheless, on the financial viability of Aboriginal representative organizations and tribal groups and an attack on your voice in the boardroom and across the negotiation table. So do not underestimate the importance of this.
The extreme nature of the cuts has to tell you that they have been made without care or consideration about the impacts these reductions, in some cases nearing 80 per cent, will have on you as you nation build, develop economies, become healthy, employed, protect your children, keep connected, revitalize your languages and culture. They have been made to control your participation, keep you impoverished, limit opposition to development that offends you and endangers your land. They have been made to lay waste to your defences.
Even if you don't agree with how these organization are structured, whether you feel you get any direct benefit or not, these organizations are necessary to keep this government from rolling over you and the collective rights of your communities. These organizations, more often than not, provide services and programs and are essential to support individual nations toward their goal of self-determination, and in the end that support supports you.
And that's no small thing. Make those organizations financially vulnerable so they can't do their work effectively, destabilize them, and the foundational work is done and there is nothing that stands between you and an unrelenting Conservative, neo-colonial agenda that does not have your best interests at its centre despite a fiduciary obligation to do so.
This is a cynical exercise by a bully government to divert the attention of representative organizations to one of survival. If it wasn't, any cut would have be made in a far more rational way, instead of the scorched earth approach currently being employed by Harper and his hatchet man Minister of Aboriginal Affairs John Duncan.
Read more: windspeaker/are-you-ready-fight-editorial
---
Follow Us
Share this with friends
Essential Reading
Key Links
Upcoming Issues
Advertising
Subscribe & Donate
Writer Guidelines