Mothers talk about harmful effects of tobacco misuse
By Nancy Doukas
Windspeaker Contributor
LANTZVILLE, B.C.
Lillian Jones was sure that she had dodged a bullet when her second child Samantha was born at a healthy 7 lbs, 6 oz. and continued to eat and grow well. But at six months old Samantha caught a cold. She didn't have just the usual symptoms of a stuffy, runny nose, crankiness and loss of appetite. Samantha also developed tremours.
Jones, concerned that something was seriously wrong, took Samantha to the hospital emergency department. Samantha spent the next month in hospital in an oxygen tent fighting for every breath and losing weight.
The nurse had difficulty inserting an intravenous tube due to dehydration. The baby's little veins kept collapsing. It was on the tenth try that they finally got one in her foot.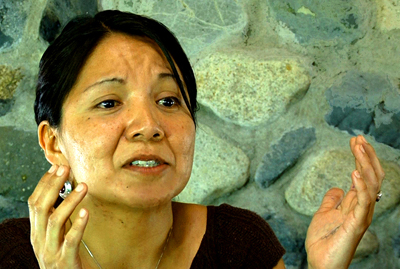 Samantha was diagnosed with the common cold complicated by Respiratory Syncytial Virus (RSV). Most children are infected by RSV before the age of two, but don't usually suffer anything more than the symptoms of the common cold.
Children who have compromised immune symptoms are the ones most likely to develop complications of the virus. Jones believes that Samantha developed the complications due to her smoking during her pregnancy.
Jones shares her story with viewers in a video entitled "A Mother's Message." The video was made through the involvement of residents at Tsow-Tun Le Lum treatment centre with the hope of helping other pregnant women deal with the long-term effects smoking has on the infants they are carrying.
Jay Niver, the communications director for the Alcohol-Drug Education Service in B.C., hopes that the video will eventually be shown across Canada in all First Nations treatment centres, friendship centres and health authority clinics.
"The producers are hopeful that the video will be adapted to reflect the resources available to each province," Niver said.
As of now, distribution of the video will include being shown in supervised sessions on the reserve, in friendship centres and with support groups in clinics across B.C. only.
Ideally, it will be viewed anywhere young women and mothers meet in a health-related environment.
"The video is designed to promote awareness and provoke discussion," said Niver, "and ultimately help mothers who smoke seek the assistance they need, be it online or elsewhere through programs and resources."
Men also shared their stories of smoking in the video.
"We had anticipated involving only women," said Niver, "after all, it's about pregnancy and maternity. But when we arrived for the shoot, numerous Tsow-Tun Le Lum residents had come forth voluntarily, anxious to share their stories, including two men. It hadn't occurred to us that they could contribute. After all, men don't carry babies. But these gentlemen spoke to the topic of tobacco misuse in their own families, growing up as children, and continuing in their new families, via their own smoking," he said.
What the men talked about was the message they were sending to their children, telling them through their actions that smoking was OK, and they talked about the impact their smoking was having on their children's environment through second-hand smoke.
"It made us quickly realize that the smoking dynamic can be a family challenge with many interrelated factors, and all of them come to bear on the health of newborn and older children in the home."
Marvin in the video speaks of his two children and how his eldest daughter has asthma. He tells us he smokes up to a pack and a half of cigarettes a day and that he used to smoke in the house and in his car with the children present.
The impact that smoking has had on his family has been difficult.
"We almost lost my eldest daughter three or four times because of asthma," Marvin says. He smokes outside now.
The discussion of smoking is also dealt with by elders. Karen tells us the story of going outside for a smoke and having her grandson ask her why she does that. He pointed out to her that the cigarette package has an "X" on it, and that the "X" means poison.
He wanted to know why she was putting poison in herself. Karen has since quit smoking and credits her grandson in helping her to make the decision to do so.
The video has had some minor revisions since the initial filming in 2010, including a name change from "Now You HAVE to Quit" to "A Mother's Message." Niver tells us that there may still be more minor revisions coming with a possible introduction being made by an elder Aboriginal spokesperson.
All changes and distribution of the 1,250 copies will be completed before the end of March.
The video was made through a funding agreement with Health Canada and was written and edited by Ross Friesen and Jay Niver and produced by Alcohol-Drug Education Service and Letsgo Productions.
As for Samantha, she was diagnosed with asthma at the age of five and is on daily asthma medications to help control the disease. Running and exertion gets her winded and she has to rest. She also has to be vigilant against catching any colds and flu.
The video ends with the names of two agencies that are available for those wanting to quit smoking. Quitnow.ca is for those who reside in B.C. and quit4life.com is available to anyone in Canada.
Follow Us
Share this with friends
Essential Reading
Key Links
Upcoming Issues
Advertising
Subscribe & Donate
Writer Guidelines